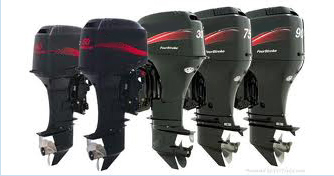 We take pleasure in introducing ourselves as leading Out Board Motor repairer well established in Mumbai for the past 20 years.
We are well equipped with modern gadgets & instruments to cater all kinds of repairs, on board the vessel & in house too.
We are sales & service provider for Johnson, Evinrude, Mariner, Mercury, Tohatsu, Yamaha, Honda, Suzuki, Yanmar, Stern Power, Stern Drive & Velvet Drive Gear Box.

This company is started by Mr. Ajit Janvekar who has a vast experience in Petrol & Diesel engines of various types & Horse powers ranging from 2hp to 250hp with well trained team of technicians & under supervision of Mr. Ajit himself, who believes in working with his own hands.
In 1990 he was asked to diagnose & rectification of a critical problem developed in 40 HP OBM of a Rescue Craft.
After successfully completing the job in short span of time there was no looking back.
We provide the fast & Best quality service to the Industry wherever the Out Board Motors & Stern Drives are used for saving the precious Human Life. This includes the Defence Services & Coast Guard of The Republic of India & various other private sectors too.